SHANGHAI – Sultry Virgin's catwalk show looked like no other: a female model in dreadlocks and a green lace-up bralette, holding a cocktail glass, walked through a room with pool decorations, including pool boys. Then she picked up one of the beach chairs and sat down to watch her colleagues display the remaining collection.
The show, titled "The Fem Beach," marked Sultry Virgin's debut at Shanghai Fashion Week, which ended on October 16. Label co-founders Wang Qiuge and Xu Yan say their brand is based on the vision of defying the male gaze and "encouraging women to do what they want and wear what they want".
"We're not about opposition to the gender binary – there's no animosity towards men – we just want girls to be proud of who they are," Wang told Sixth Tone ahead of her October 12 show.
"I certainly think our brand's response to the rise of female consciousness has the same roots as other platforms and social media accounts talking on the subject, but the awakening comes mostly from ourselves," added Xu, as a member of the. identifies LGBT community.
An earlier collection from Studio Copula that incorporates elements of beads and weapons as symbols of femininity and masculinity. Courtesy Studio Copula
Sultry Virgin was among several up-and-coming labels at Shanghai Fashion Week's Spring / Summer 2022 shows to explore gender expression and challenge preconceived notions of gender and sexuality in their designs. The new generation of Chinese designers have set themselves the goal of continuing and improving the global trend of gender-equitable fashion at home.
"I was pleasantly surprised to see the new Sultry Virgin collection," said Jacky Chen, founder of Voguing Shanghai, to Sixth Tone. "I don't remember a brand discussing gender issues before 2019. (Designers) are certainly braver and eager to express themselves these days. "
In addition to Sultry Virgin, several newly discovered labels such as Ponder.er and Group Therapy presented their designs with new definitions of masculinity, while Anno Mundi and Do Not Tag have added unisex elements to their collections. The fresh labels follow those of the internationally acclaimed Chinese designer Zhou Rui, who recently won the prestigious LVMH Karl Lagerfeld Special Jury Prize with her genderless label Rui.
But behind the glitz and glamor, the designers' collections and their urge for self-expression are inspired by their painful childhood experiences. Alex Po and Derek Cheng, the creative duo behind the gender fluid brand Ponder.er, who met while studying in London, said they were both discriminated against in Hong Kong for not following the male image prescribed by society corresponded.
"My father, who was very traditional, always thought I was too weak when I was growing up and wanted me to train in the Shaolin Temple," said Po, referring to the birthplace of Shaolin Kung Fu.
"Alex and I are soft men, and we believe there are many breakthroughs in the menswear category," Cheng told Sixth Tone, adding that a school teacher once told his mother that her son was great at everything, but not "man enough."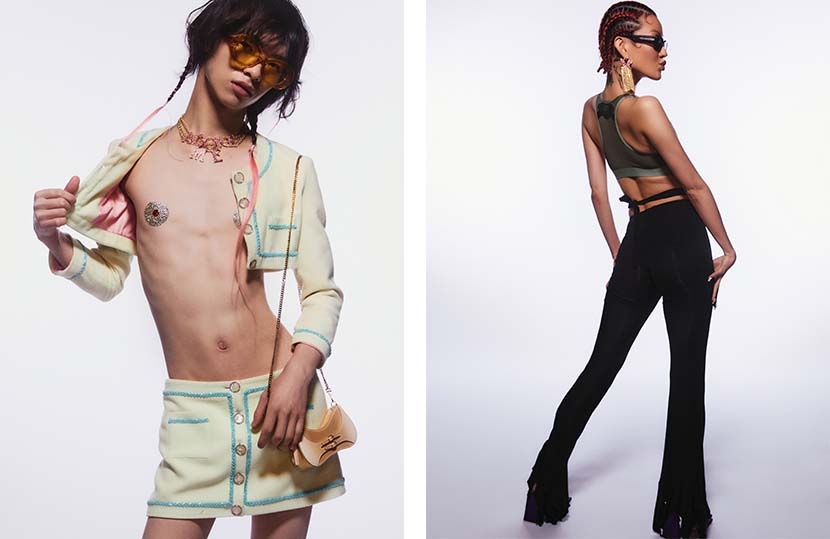 Looks from the current Sultry Virgin collection. Courtesy Sultry Virgo
The designer duo said that Ponder.er's new collection, entitled "Love for Speed," refutes traditional definitions of masculinity that are imposed on boys and men. Although more and more Chinese celebrities have shown their "softer sides" in recent years, they have been attacked as "pigs" by both the authorities and online trolls.
"A lot of men weren't encouraged to accept or express their soft side – that's the core idea of ​​our brand," said Cheng.
But it's not just clothing that blurs the boundaries of gender identity. More men are now adorning accessories like earrings – that were previously blurry on select TV shows – and other items that were once reserved for women to express their personal style.
Liu Chubai, co-founder of accessory brand Studio Copula, said her sleek and futuristic ring, bracelet and necklace designs help break the outdated notion of gendered accessories. The jewelry designer, who visited one of the exhibitions during Fashion Week, told Sixth Tone that "the lines between the sexes will become increasingly blurred in the future".
And while that future may have already arrived in bigger cities where clothing from labels like Sultry Virgin is available, creators believe it could take longer to reach smaller, more conservative markets. Some designers and fashion critics say that a local industry that is not afraid of new ideas can ultimately help change the mindset of the masses and make society more tolerant of people's clothing choices.
"Fashion can break the stereotypes of what people should wear and what they should wear and make their lives more fun," Dai Moli, a blogger and fashion critic, told Sixth Tone. "However, fashion can only reflect changes in a part of society, but not all, as it is essentially a business that has consumption as its main objective."
Editor: Bibek Bhandari.
(Header image: Left and right: Ponder.er Spring / Summer 2022 collection "Love for Speed". Courtesy of Yan Yufeng & COSMO TEAM; Center: Jacky Chen (center) attends the Didu Show. Courtesy of Jacky Chen)